Someone once said that shoes are a girl's best friend? or maybe it was about diamonds? well, I prefer it in the shoe version.
So if shoes are a girl's best friend then, we probably need to make sure we know the latest shoe trends! don't we? and as a shoeholic, I think I might need a winning lottery ticket for all those trendy shoes that I want.
Colorful Boots
For those who ever wondered – no I don't think that people will ever stop wearing knee-high boots, probably because of the versatility they have and how comfortable they can be.
But now this trend is not only for the knee-high boots but for all the boots out there! just choose your favorite boot style and then find it in any color you want, orange, yellow, red, green, blue, etc. Personally, I prefer to go a bit extra with boots that have some king of colorful pattern or something like that and not just one solid color, but that just me!
Strappy Shoes
Does anyone remember the gladiator shoe trend? when everyone wore sandals with lace-up straps that will almost go up to your knees? well, I do! and actually I always wanted one of those but at that time I was little and for some reason, my mom would not agree to buy them for me.
But now this trend came back and I can't wait to try it! get your strappy heels or sandals and wear them proudly!
For more of an edgy look, you can lace up the straps on top of your pants.
Chains Everywhere
"You got me in chains! you got me in chains for your love! but I wouldn't change, no I wouldn't change this love! "
Can someone please explain to me why all things when you add a chain to them all over sudden start to look pretty, edgy and interesting?
Well, that's why I'm sure this will be one of the most noticeable trends of this year of 2020! So go get your shoes with chain detail in it, small or big chain, everything goes!
Chunky White sneakers
Well, it looks like the white Chunky sneakers are still here to last for a long time! and oh, boy I love them! They actually match everything, super comfortable and always remind me of the '90s 🙂
Definitely a must-have! and my favorite one is actually in this picture – oh the great Buffalo sneakers-I just can't get enough of you!
Square this, Square that
After season after season that the pointed – toe shoe was all over the shoe stores and runways – it's time for a little change!
The square toe will bring you a really classy look, it's much more comfortable than a pointy toe shoe and looks super interesting and eye-catching.
So why not to try this trend out? maybe, you'll love it and will never go back to a pointed shoe again.
Bow Shoes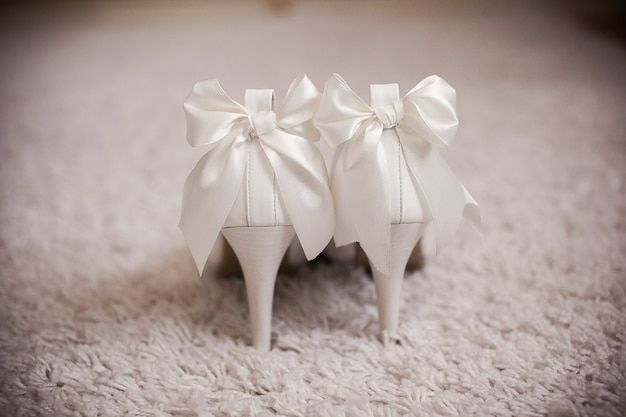 The picture says it all! this trend is super girly and cute and can be used in any kind of shoe you'd like! from sneakers to high stiletto heels.
The options are endless and you can even DIY them at home, just choose the bows you'd like and the placement and voila! a new trendy shoe!
Sporty Sandals
LOVE! LOVE! LOVE!
Another one that reminds me a bit of the '90s! super comfortable sandals that will help you stand on your feet the entire day and will not kill your feet in the process.
The options are endless! colorful, open toe, close toe, solid color or anything else that you wish for, but what is the same – is the sporty and a bit of a chunky sole that all of them have.
Please try it – you won't regret it!
My Prediction
I think it's safe to say that the fashion industry is going in a way of making trends that will also be more comfortable for us and not just pretty!
GREAT 🙂
With all those trends this year, I'm probably going to be super broke! I have a shoe problem – I want it all and I want it now! 🙁
Love Ya,
Anna Rouge.